Hormone Free Birth Control
I am PASSIONATE about helping women find the solutions that work best for their body. For me, that's Daysy. It gives me the peace of mind and ease of use that I'm looking for in a birth control method without the horrible side effects I experienced on the pill. You can check out my detailed review here but I can't recommend it enough!! Save $20 through the link below.
The quality of the supplements you take makes ALL the difference. You want them to be pure, safe and effective. I only recommend pharmaceutical-grade supplements to my clients (and friends/family) because I know without a doubt that they meet the criteria of a high quality supplement. You can have access to them at great prices from Fullscript! Shopping through the link below saves you 10%.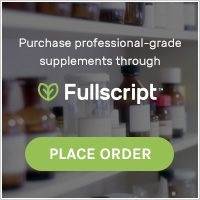 Think of Thrive Market like Amazon x Costco for healthy foods. It is a great place to save money on specialty grocery and household items! This is where I get a lot of my pantry staples and chemical-free personal care and household cleaners. Plus it's a great way to try new things as there are always free gifts to try out with each purchase. Shopping through the link below saves you an extra 25% on your first order.